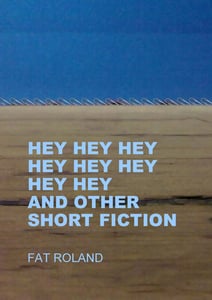 £

5.00
This is the second edition of this superb collection of Fat Roland's short fiction.
There are cable ties and robot dogs and dead Santas. There is a regretful ghost and a buffalo and a man who climbs inside people. Some of the stories are just people looking at stuff. Some of them aren't.
This new edition contains two extra stories. Oh yes!
SHIPPING OUTSIDE THE UK: PLEASE EMAIL DJ (AT) FATROLAND.COM FOR A QUOTE
Title: Hey Hey Hey Hey Hey Hey Hey Hey And Other Short Fiction
Author: Fat Roland
Illustrator: Fat Roland
Price: £5 (+p&p)
Size: A5
Pages: 80 (incl. 5 colour)
Publication Date: 31 January 2013
New edition: 1 August 2013
Format: Paperback
BIC code: FYB
BIC subject: Short stories
Audience: General/trade